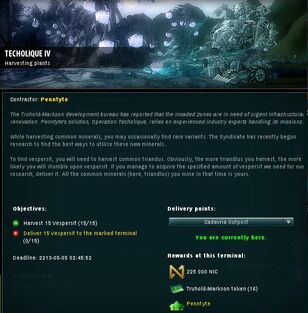 Quick Facts
Techolique IV
Level:
3
Contractor:
Penntyte
Type:
Harvest
Island:
New Virginia
Start:
Cadavria Outpost
Delivery Point:
Cadavria Outpost
Assignment:Techolique IV
Edit
Harvest 15 Vespersit
Objectives
Edit
Harvest 15 Vespersit
Deliver 15 Verspersit to the market terminal
225k NIC
Truhold-Markson Token (16)
Penntyte
Description
Edit
The Truhold-markson development bureau has reported that the invaded zones are in need of urgent infrastructural renovation. Penntyte's solution, Operation Techolique, relies on experianced industry experts handling its missions. While harvesting common minerals, you may occasionally find rare varients. The Syndicate has recently begun research to find the best ways to utilize these new minerals. To find vesperit, you will need to harvest common triandlus. Obviously, the more triandlus you harvest, the more likely you will stumble upon vespersit. If you manage to aquire the specified amount of vespersit we need for our research, deliver it. All the common minerals (here, triandlus) you mine in that time is yours.
Walkthrough
Edit
Receve assignment at the Cadavria Outpost
Make sure you got plenty of universal harvest charges (don't forget this step)
Exit terminal and move to the most convienient triandus and start harvesting.
Once you have ompleted the harvest of 15 Vespersit, return to Cadavria Outpost
Inside the Outpost, Deliver the items from the assignment info window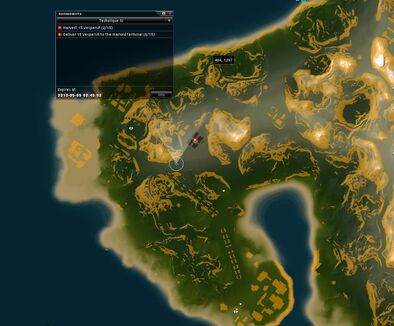 Easy assignment to complete if you are in the mood to harvest.
Good assignment to combine with other harvesting assignments. Obelisk III and Obelisk XII